Who is Bonjour Paris?
Based in Londrina - Brazil, Bonjour Paris is a design timeless accessories brand that produces utility products no gender, giving new uses to discarded but potentially useful materials. Ecobag, messenger bag, tote bag, backpack-bag and purse made from the idea of upcycling and slow fashion. Brazilian products, on demand and online sales. Bonjour Paris is part of the movement that cultivates responsible fashion in Brazil.
Bonjour Paris
Launch: 2018.
Londrina-PR, Brazil.
I designed, produced, and managed retail marketing assets, developed institutional site, landing page, and e-commerce, product launch campaign, retail displays, social media, banners for maintenance of the site, taken pictures of products, and created promotional assets.
Naming origin
Founded in 2018 by sisters Silvia and Renata plus cousin Janaina, Bonjour Paris adopted the name of your proposal: create a good day for the tomorrow. The BP has a collaborative, open-minded and imaginative team.
The name Bonjour Paris was no longer available on social media or for the URL, so the solution I gave to the members was to adopt @querobonjour, which in English would be "want a good day". The solution was approved and well received by the public. In conversations, customers referred to the brand as Quero Bonjour, reaffirming the practicality of choosing the nickname.
The proposal
Bonjour Paris helps to spread the concept of conscious consumption and circular economy to achieve a better and sustainable world: this is the proposal of the Quero Bonjour's crew.
On the first step, Bonjour Paris has delivered an experience with ecological fabrics made with PET bottles and Brazilian organic cotton. The proposal was the production is on-demand, avoiding waste materials and resources. The effect WOW with packaging and satisfy of participate to build to better tomorrow. Now Bonjour Paris paused the operation because of pandemic effects, and to maintenance keep safe to whole team.
Values of brand
Translating the Bonjour Paris vision of seeing the world.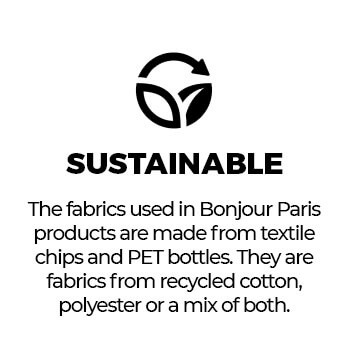 Maintenance site e-commerce
The ability to communicate clearly with potential customers. I changed the institutional website, ecommerce and landing pages seasonally according to each product launch and commemorative date on the calendar.
The CMS used in ecommerce is the Integrated Store, a platform specialized in small virtual stores. I customized banners, edited CSS and integrated with Mailerlite for sending email marketing.
The landing pages were made on Mailerlite, where I could apply retail marketing assets for seasonal campaigns.
I made the institutional site using a theme in HTML5, where I edited HTML and CSS to follow the brand guide.
Printed marketing materials
I designed various printed materials for Bonjour Paris, including the clothing tag, vouchers, stickers, postcards, mailers and flyers.
Product photos and image editing
I used Adobe Creative Suite (Illustrator, InDesign, Photoshop, Acrobat, Lightroom etc.) to do image editing and create elements like icons and create new prints.
Results
The partners approved the visual campaigns in the first proposal with the client. Thanks to the consistent briefing and the confidence given. I redesigned sitewide assets to match the aesthetic of each product launch. I created and implemented new visual trends as they developed. It was an amazing project where I could participate and learn about sustainable topics and earn friends.
Testimonial

Danielle is an extremely creative and innovative visual designer, who's also best in guiding necessary meetings. She understood my company's needs by directing efforts to maximize my results at Estúdio & Trabalho. Her attention to detail reflects her positioning in the business, turning her attention to resolving adversities.
Danielle developed my company institutional website and the virtual store, taking care of everything from photo treatment to page design, including social medias and everyting about marketing and communication with followers and customers. But, first of all, she developed the Bonjour Paris logo, creating a brand manual with recommendations for its use and, as an illustrator, she developed patterns in rapport for textile printing and illustrations alluding to the work Le Petit Prince in celebration of the brand's first year Bonjour Paris, in an authorial way.
— Silvia Helena Neves de Sales Founder of Bonjour Paris
Social media materials
I maintained day to day visual media/design requests, and also worked to keep visuals all in the same style across platforms. I created several major pieces for digital, social media (Youtube, Facebook, Instagram), and entertainment media like animated gifs and videos.